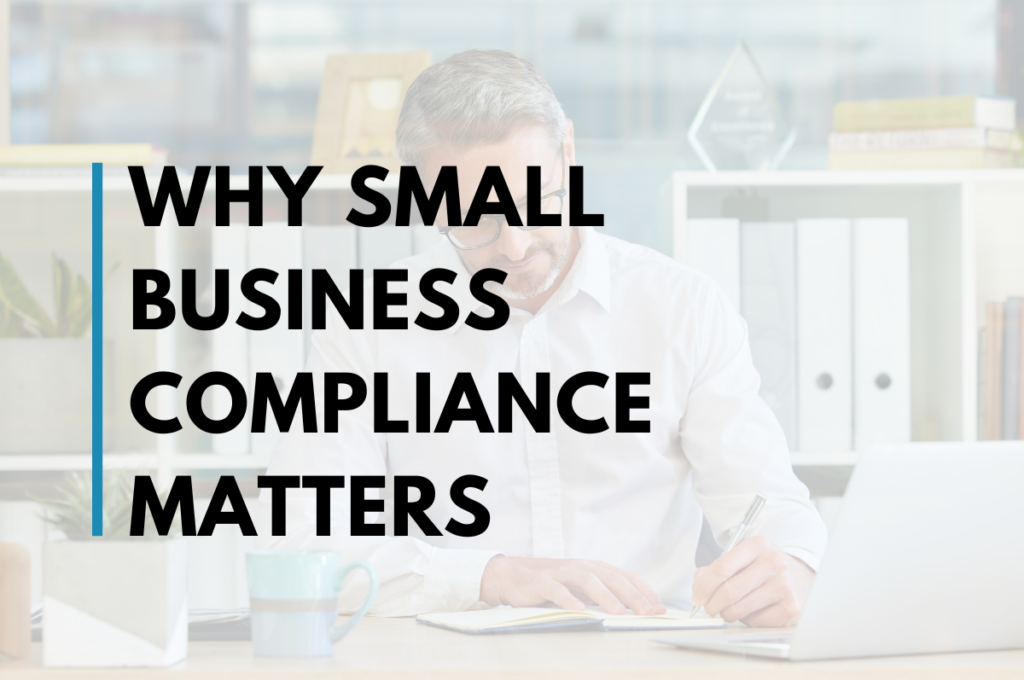 In the fast-paced world of small business, the imperative need to develop a strong market presence and drive profits can often overwhelm the need for compliance. Compliance with applicable laws, regulations, and standards is crucial to the long-term health of your company and its ability to thrive in the marketplace. 
This article will go into the relevance of compliance in business, explaining why it is important and how failing to comply can have dire implications. We will stress that it is important to understand and follow compliance rules not merely to avoid fines but also to develop trust, integrity, and a solid foundation for your company.
What is Small Business Compliance?
Fundamentally, compliance means doing business in accordance with all applicable rules, regulations, and accepted practices in your particular industry. From routine administrative work to the protection of customer data, this sweeping mandate covers it all and demands compliance with all applicable laws and regulations.
For instance, a complying company pays its employees the required minimum wage, proves its dedication to environmental principles, and takes appropriate measures to safeguard personal information like customers' Social Security numbers and credit card numbers. Similarly, all tax responsibilities are met precisely and on time, protecting the company's finances and good name.
Yet compliance isn't just about doing what's required or staying on the right side of the law. It's about challenging yourself to do better, about going above and beyond the call of duty, and about making an effort to be a model citizen in every respect. This perspective on compliance elevates it from being only a legal necessity to representing the values and honesty of your business.
Effective small business compliance has several advantages beyond just doing the "right thing" and staying out of trouble. Adopting a culture of compliance is one way to earn the trust of your stakeholders (clients, workers, and business associates). They appreciate your dedication to doing business the right way, which benefits your connections. In addition, following regulations helps lower the likelihood of negative outcomes, streamlines operations, and sometimes even improves a company's bottom line. Therefore, compliance shouldn't be seen as a chore, but rather as a necessary component of a thriving and long-lasting business.
Benefits of Compliance in Business (Beyond the Law)
At its most fundamental level, compliance protects small businesses from the crippling effects of recurrent fines and business owners from potentially life-altering legal consequences like fines and jail time. On average, a non-compliance incident costs businesses $4 million in revenue loss. The benefits of following small business compliance rules, however, go far beyond these obvious upsides.
Reputation: First and foremost, the authorities aren't the only ones who care about compliance, so do your customers and clients. Your compliance will do wonders for building consumer loyalty. Let your brand be known for its professionalism and attention to detail in all facets of its business, not just the product or service you provide. With a fine reputation among your customers comes positive reviews and confidence in your small business.
Avoiding Stagnation: Compliance is ever-evolving, it is anything but a "one and done" field. For that reason, the ability of your small business to keep up with the times will heighten the environment of constant growth and adaptability that makes companies succeed in the long run. Think of compliance as your opportunity to fine-tune the skills needed to keep up with changes in technologies, economic downturns (and upturns), and embrace change.
Competitive Edge and Mutual Growth: Being a paragon of your industry in terms of compliance allows you to stand alongside the big names without your reliability being questioned. In addition to the aforementioned reputation this brings, it opens your company up to potential partnerships with other compliance-savvy companies.
Optimal Efficiency: This isn't just a term that's tossed around at board meetings, it is something that's actually attainable simply by following compliance. Compliance, after all, isn't just about laws and regulations, it's about following industry standards. By closely adhering to the best practices of your given industry, you'll be able to excel at work processes and the bread and butter of your operations. 
Achieving Small Business Compliance
Understanding the laws, rules, and industry standards that apply to your company is the first step toward compliance. This could include matters such as labor law, tax law, data protection legislation, environmental restrictions, and even sector-specific rules. It is wise to consult an attorney to make sure you are in compliance with all laws.
Once you've identified the rules and regulations with which your company must comply, you may set up a set of well-defined, written policies and procedures. You need policies and procedures for everything from dealing with consumer information to hiring to workplace safety.
Provide your staff with training on these policies and emphasize the significance of following them. Having regular training sessions to remind everyone of the necessity of following these guidelines and to inform them of any regulatory changes is highly recommended.
Document everything that goes on in your company. This is important for a variety of reasons, including proving compliance with laws pertaining to things like labor and the environment.
Finally, you should think about scheduling routine audits of your operations to guarantee continued compliance. This will help you anticipate and prevent any problems that may arise.
In simple terms, establishing compliance in business is an ongoing process that requires education, implementation, training, documentation, and review on the part of small business owners. This is something that every business is capable of doing with enough intention, time, and effort. Start now, and you will find the process goes much smoother than expected. Just remember to start your small business compliance strategy now to protect your business and prepare for the future.
Please follow and like us: