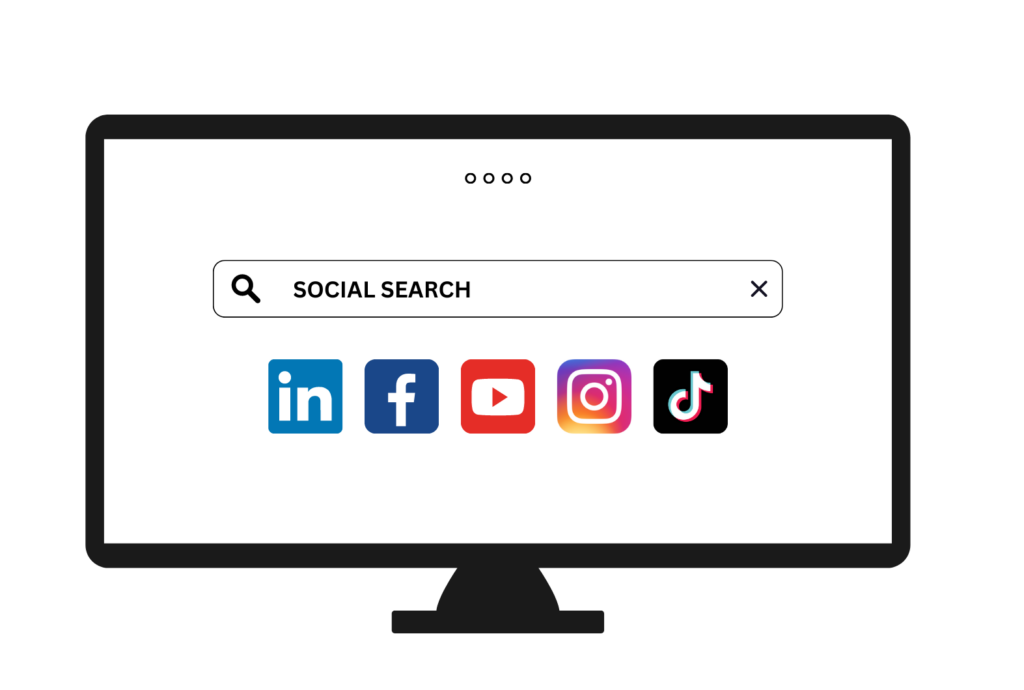 Over half of the world's population uses social media for an average of 2.5 hours a day! This makes the various platforms a fantastic tool for both B2C and B2B marketers. Social media search has continued to grow, as many social outlets have evolved to make it easy for users to search and discover within their platform.
Google has also begun to incorporate short video results from social media in their search algorithm, as internet users' preferences are shifting from images/text to short video clips. These hits can be obtained by including keywords in the caption, hashtags, and audio and/or text on the video. Also, make sure the cover image represents the top targeted keyword.
LinkedIn
From a B2B perspective, LinkedIn is an excellent platform to focus on due to its workplace focused content. In order to encourage network growth and increased content exposure, posts need to include relevant hashtags.
Hashtags are used to reach an audience beyond your direct connections. What hashtags should you be using? To find hashtags relevant to your target audience, you can search a keyword, find people who have a large following and post content often, then look for hashtags and content they interact with. Make sure to include these hashtags in your posts to ensure maximum engagement on your posts.
YouTube
YouTube is the second most popular search engine (Google being the first). With their introduction of YouTube Shorts, users are now able to scroll through short form videos that relate to their interests. This makes it easier for accounts to reach beyond their direct following as well.
To engage your target audience, make sure your keywords are properly placed. Begin by searching for hashtags to see the amount of content available, therefore popularity of that word or phrase. Once you have determined your relevant set of keywords, you will need to incorporate them into your content.
Create a title with keywords at the beginning, targeting 46 characters
Create a description of the video, this can be up to 5,000 characters, including the primary keywords within the first 100-150 characters as this will appear in search results. Secondary keywords, a timestamp index, hashtags and a call to action should be included in the additional content.
Tags are the hidden code (like a meta description) to categorize your content. Include 5 relevant keywords as tags.
Facebook/Instagram
Facebook has grown into a platform for both social and business interactions. With over two billion searches a day, it is essential to create a strong presence for your business. As Instagram is easily connected to your Facebook account, it is easy to share across both platforms. By including updated hours of operation, business news, contact information, and reviews you will help users validate your business if they use Facebook or Instagram for their initial search.
When creating your name and bio, take time to include keywords. Content keywords are more essential in the caption of your photo/video than the hashtags, as the caption and popularity of the content are used in search ranking. The cover image, if posting video, should be the best reflection of the keyword.
Twitter
As a social platform that focuses on current content, Twitter requires time sensitive posts and an active presence. To gain a following it is essential to post content that reflects trending topics. This can be done through research of relevant hashtags to see which are gaining attention at the time. You can also relate your topic to the hottest trending tags with a little creativity.
As your username is attached to all of your individual tweets, make sure it is relevant to your keyword focus.
The bio is 160 characters that can be edited to stay current with your top keywords.
Include links back to your website to increase traffic
Retweet relevant tweets to increase active presence
TikTok
TikTok has a reputation of a silly video app for kids, however as TikTok starts to climb to the top of GenZ searches, and the audience is growing into the older generations, both B2C and B2B marketing strategies should begin to include the platform.
Composed of short form videos with a caption, hashtags, and audio text format similar to Facebook and Instagram, TikTok content can mirror those of other platforms with a more casual, concise tendency. Videos are not ranked by following, making it easy for newcomers to gain access to fast growth with engaging content. Focus on brand building here, not selling a specific product/service.
Please follow and like us: