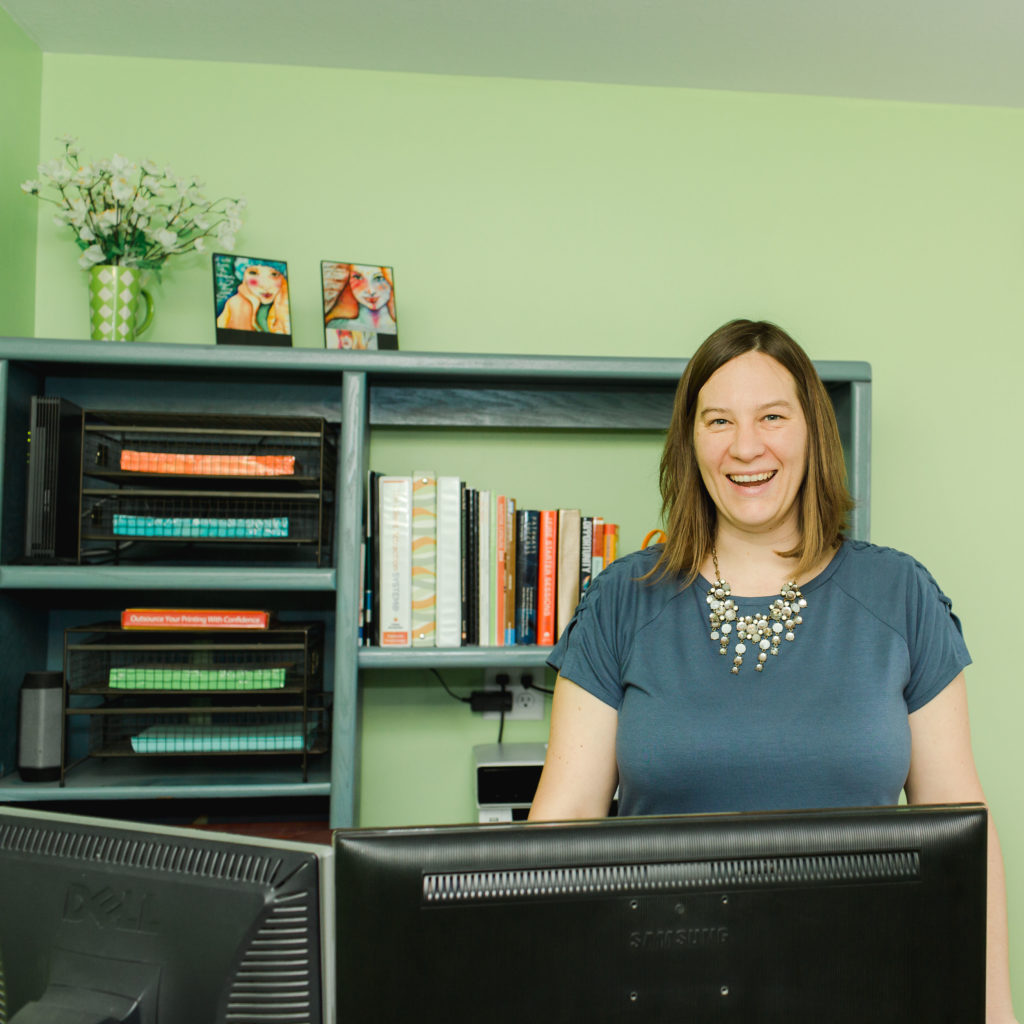 Andrea Haverinen, owner of AH Grafix, wears many hats. She's a wife, mother, a graphic designer and an entrepreneur. She values family time, going to church and being hardworking. Her "pay your dues" mentality has played a large role in making her business successful.
Andrea was raised in a print shop. Her mom started a print shop in their home when she was a young girl. Following in her mom's footsteps, Andrea became interested in graphic design. She found that it was a great way to combine her interest in computers and her love for art.
Throughout high school and college, Andrea worked for her parents in their print shop. She got a degree in graphic design and eventually decided to leave her hometown in Michigan and planted her roots in rural Minnesota.
In 2001, while working a low wage job, Andrea started doing freelance work for extra money. A few years later, after the birth of her second child, she decided to quit working outside of the home when she couldn't afford the cost of putting them in daycare. Freelancing small jobs here and there continued to be supplemental income.
Establishing a Marketing Agency
In 2013, AH Grafix was officially founded and Andrea transitioned from freelancer mode to the role of business owner. Her initial goals with AH Grafix were to have a flexible schedule that allowed her to work from home around her kids' schedules and also to serve the type of client who does not have the resources to take care of marketing for themselves. Andrea focused on being the Marketing Engineer that business owners turned to when they did not have the time or staff to take care of their marketing efforts.
Over the past 6 years, her business has grown through ebbs and flows. She has evolved her business into what it is today using her skillset to meet the needs of her client base. Andrea understands the process of designing, printing and producing marketing pieces that meet her clients' needs. Throughout the growing process, Andrea has learned many important lessons and has some great advice for other marketing agencies or business owners.
Tips for Growth & Success in a Marketing Business
1.Balance Personal Life and Work Life
One of the biggest challenges that Andrea faced being both a mom and a business owner was balancing her personal life and her work life. She had to learn to differentiate between "black time" which was focused work-only time and "white time" which was only for personal things.
Andrea has learned to focus on AH Grafix when she is sitting at her desk. Although she works from her home office, she does not worry about the family or household when she is working. It has helped her a lot now that her children are in school to have her kids physically separated from her.
During personal time, Andrea does not work at all. She set up a Google phone number so that if her clients try to text or call her during her personal time, it will go straight to her email inbox and so she can get back to them during her work time. Andrea's clients know that if they are trying to reach her about work-related topics, they need to get ahold of her using her work phone number and not her personal phone number. This has allowed Andrea to communicate with her clients when she is available and not feel like she is getting calls about work at all hours of the day.

2. Take the Time for Personal Development & Training
In the world of graphic design and marketing, ideas, tactics and tools are always evolving. In order to offer the best service to her clients, Andrea takes time for personal development and training so that she can stay up to date on the latest trends in the industry. Some of the things she does to further her education include:
Analyzing marketing materials that come in the mail and seeing what catches her eye
Watching YouTube videos
Following marketing experts online
Reading business blogs
Talking to other rural business owners
Google
3. Automate Tasks
One of the best ways that Andrea has found to be efficient and manage her time well is through automating tasks. Andrea loves the project management software 17hats. This software works great for projects that are repeatable. It will send emails, send quotes, remind you to send follow up emails, assign others to sections of the project. This allows Andrea to automate business management tasks that take away time from some of the design and marketing. It also helps her projects go more smoothly by preventing her from forgetting about important things that need to be completed.

4. Figure Out What Outreach & Marketing Works
Marketing companies need to do marketing just as much as any other company. Andrea has taken the time to figure out what forms of outreach and marketing work for her and what things don't work.
Some forms of outreach she has tried include sending out postcards and thank you cards, sending printed and email newsletters to existing customers, social media posting, physical mailings and giving a marketing calendar to her top customers.
Andrea has learned that mailings don't get as high of an ROI for her as it does for other types of business. She had learned to weigh the cost of exposure and make sure that it is worth it for her to send out marketing materials. She has a specific goal when sending mail to a client or potential client.
Throughout the years, Andrea has put a lot more effort into cultivating relationships with existing clients. It is a lot more effective to maintain relationships with existing clients than to try to gain new ones.
5. Understand Your Customer
To be successful in any business, it is important to understand the needs of your customers. Andrea realizes the importance of this – she even spent time and money taking courses on identifying her ideal clients. When she started her business, she did a client attraction challenge where she learned how to pull her clients into her work rather than pushing her services on them.
Andrea has developed her ideal client profile by looking at the clients she has worked for in the past. Living in rural Minnesota, Andrea's ideal client is the owner of a small local business with a college education and a family. Developing a client profile has helped Andrea get a better understanding of who the people that she works with are, and how to best help them.
6. Hire Help for Tasks You Struggle With
As the owner of a business, there are many tasks that you are responsible for that may go beyond your area of expertise. Andrea learned when she became a business owner that you can't do it all. She started to realize that tasks she didn't enjoy doing, such as preparing and sending invoices, would get pushed to the side. The solution to this challenge was hiring her sister, a "get-it-done" butt-kicking admin.
7. Pay Attention to 2 Types of People & Block Out the Rest
Although it's often helpful having an abundance of information readily available on the Internet, Andrea has learned that it can be very difficult to listen to all the competing, conflicting information provided by gurus, marketing experts, and master manipulators in the marketplace.
There is so much information that it can be hard to digest and understand what is important. Many people have good ideas, but you can't do everything at once, and what works in one industry, region or time may not work in another. Andrea has learned what strategies work for her, and she sticks with them.
The two types of people that Andrea has learned to listen to in business are:
The person who is paying you (your customer). This person determines your success as a business.
The person whom you are paying for advice. This person should be as invested in your success as you are.
8. Say No to Clients or Projects that Aren't a Good Fit
It can be hard to turn down work but sometimes turning down work can lead to better results in the end. Andrea has learned to say no to a project that is not a good fit for her, even when the business is needing cash flow to operate. Opportunities are like buses; there's always another one coming. Richard Branson.
9. Work Your Personal Network
One of the best strategies that Andrea has used to grow and gain new clients is using her personal network. She advises business owners to talk to friends, family and people around them about what they do. When one of these people or someone they know needs a service, they will know who to turn to. Coming from a rural area, word of mouth throughout the community has helped drive the success of Andrea's business.
To learn more about Andrea's business, AH Grafix, visit https://ahgrafix.com/.

Please follow and like us: