Any business from large to small must do some advertising to get their product out to the public. Advertising is not free but can lead to an increase in revenue in the future. The success of your advertising efforts is measured by a metric called Return on Ad Spend or ROAS.
What is ROAS?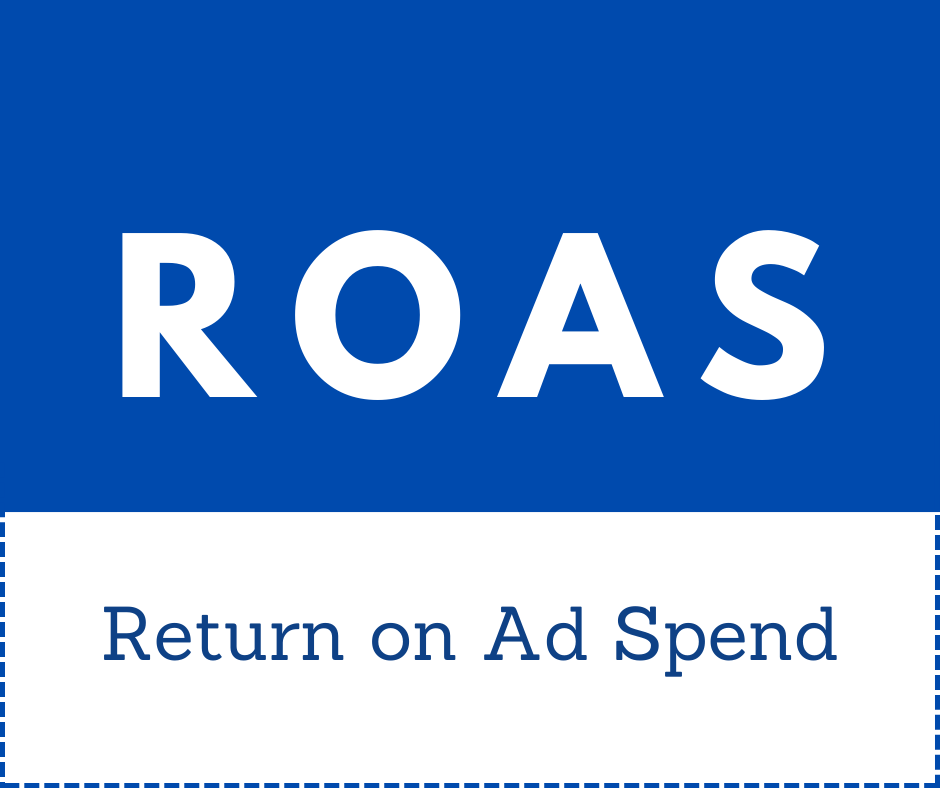 ROAS or Return on Advertising Spend refers to the amount of revenue that is earned for every dollar spent on an advertising campaign. In other words, it is a way to measure how successful your advertising efforts are. ROAS works to determine which advertising strategies are helping your company and which are wasting your time and money.
Why is ROAS Important?
There are many reasons why ROAS is important and should be used by your business.
Helps identify and individualize successful marketing strategies- with ROAS you can calculate as specific or broad of ad campaigns as you would like. You can calculate your advertising costs in general to get an overall estimate of your return, or you can individualize your campaigns to determine which advertising strategies are the most effective.
Refines your budget and spending- The more you spend on ads doesn't always mean the higher return in revenue you will get. Once you determine which strategies are giving you the most return and which strategies may be ineffective, you can adjust your spending accordingly. By measuring each individual strategy, you can spend more money on campaigns that perform better and cut your budget on campaigns that you may be losing money to.
Allows for better decision making- After calculating the return on ad spend you can use your results to make better marketing decisions for your company. ROAS will give you numbers specific to your marketing campaigns, allowing you to evaluate your strategies that are precise to your business. Not all strategies work the same for all businesses, that is why your ROAS can help make decisions that are specific to your sales. By being able to see which advertising strategies outperform the others, you can make decisions that will help maximize profits in the future.
How to Calculate ROAS
ROAS can be calculated by a simple formula. The formula divides your total revenue by the amount you spent on advertising for a set period of time
ROAS= Total Revenue/ Total Ad Spend
You are looking to get a positive outcome for your return on ads. For example, if you spend $5,000 on advertising campaigns and the total revenue for the period is $50,000, your ROAS would be 50,000/5,000= $5. So, this means that for every dollar spent on advertising you earned $5 back.
Your calculations can be even more specific than just the overall campaigns. If you have conversions specific to campaigns you can calculate your ROAS with the money spent on just that ad specifically and the revenue earned from its conversions. Another way of individualizing campaigns is by taking the revenues earned on one specific product and dividing it by the money spent on advertising that product for that product's overall ROAS. Keep in mind that not all advertising strategies can be individually calculated. Advertising such as billboards or television ads costs money, but the revenues earned specifically from them are hard to determine. In this case, you want to know your overall ROAS before you individualize your campaigns.
What is Considered a Good ROAS?
Your target ROAS should be individualized to your business. Everyone has different standards depending on your business category or stage of development. A business just starting out is going to want to aim for a higher ROAS to cover the start-up costs. A company that is more developed wants a higher ROAS as well, but can also survive off of a lower one. Whether your business is a start-up or well developed, the higher the return the better.
A common target used for this metric is $4 in revenue for every $1 spent in advertising campaigns. This benchmark is a typical average seen by e-commerce businesses. However, keep in mind each business and individual campaign have different components that cannot always be generalized to the standard average.
ROAS Takeaway
ROAS is just one way of measuring a return for your business. Advertising is an essential part of any business that will bring in more buyers. Tracking your ROAS will help you to determine which of these advertising efforts are effective and will maximize your profits. It is a simple metric that will benefit your decision making and future revenues. Now that you have a better understanding of what ROAS is and how to calculate, it is time to implement it into your own business practices!
Please follow and like us: