Basking in the sun and three months of vacation might come to mind when thinking about a teacher's summer.  That is not the case for Mr. Charley Heltunen, a third grade teacher, who spends his summer elbow deep running A-1 toilets. This past winter, Mr. Heltunen bought this Upper Peninsula of Michigan portable toilet company from its previous owners who have ran it for nearly 30 years. 

Number 1 and Number 2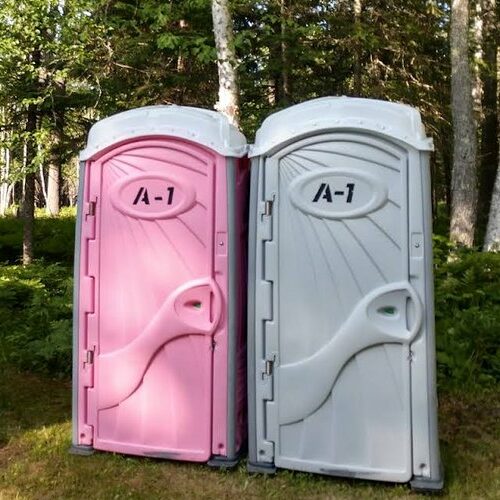 Charley wasn't the only one to enter this new experience. Kaitlin, Charley's wife, took on the role as the company's "volunteer" secretary which comes as a bonus for the company's overhead. This husband and wife duo have learned a lot about each other and how to work as a team since becoming business owners. Charley put his complete trust in Katilin to run the paperwork side of the business. In fact, Charley told Katilin that she'd have to find a system that works for her. The previous owners hand wrote everything, so Kaitlin's first goal was to transition to an automated system. Charley easily gives Katilin all the credit for doing the research and using her prior knowledge and background to fully automate their system. He did offer his help to talk through things. He even role-played a few calls as a new customer to help Katilin smooth out the kinks in her newly created automated system. Charley also stated, "It took a whole weight off my shoulders" and allowed him to focus on his role.

Crap Happens. Roll with it.
Forgiveness has also played a role when working together. The knowledge that mistakes are going to be made, but the same vested interest for the company to succeed has allowed a flow of ideas and suggestions to exist. Being able to forgive and acknowledge mistakes have allowed the couple to move past them, so they don't fester and invade their personal life.

This couple admits business might have crept into their personal lives a little too much when they can't make it through a date night without talking about business. The knowledge that their business is new and fresh and the goal to keep a balance allows them to accept this as temporary. On a positive note, how many people can share their work passion with their spouse?

Stress, figuring out details, and the push to learn a new business has pushed the couple to communicate, trust, celebrate their individual strengths, and come together as a team at home and in business.

No job is done until the paperwork is done.
Ironically, free resources provided by the U.S. Small Business Administration was the biggest help as he established new ownership. In fact, to contact and use their resources would be the first piece of advice he would extend to new small business owners. This free resource provides indefinite services, but initially has helped Charley and Kaitlin through the process of applying for unemployment insurance and paying their taxes. Charley's completely marveled by the price of the resources especially since new companies don't have a lot of extra cash flow. They plan to use the free resources as they continue to face business questions. This especially comes as a huge bonus, because Charley did not go to school for business.

Number 1 in the number 2 business.
Charley hands down indicates the current client list as the biggest asset of buying an already established company. Having inventory and an established routine has also allowed him to hit the ground running. Charley also gained a long time employee who has helped guide him through the transition. In fact, Charley referred to him as his boss during this transitional time. Learning from this long time employee has proved beneficial for both parties. Training and advice followed freely from the previous owners. They wanted the business to succeed, because this was their baby and have built the company and client list from 15 toilets to 300. As time progresses, finding a balance between how much help is too much will be their new challenge.

Currently, Charley's look at marketing is to just get his company name out there. They have started making small changes like adding t-shirts and hats with the company name and number as a part of their uniform. Removing their contract with the phone book went against the previous owners advice, but was done to eliminate the huge monthly cost based off the change in how people search for companies. And as Charley learned by chatting with new customers, most of them were referred by existing customers with a few coming from a local septic pumping company. Charley states that he's been led to believe that the portable toilet business is a behind the scenes business, but this goes against his personality and hopes to bring out the funny side of running a portable toilet business. Adding U.P. We Pump next to the company's name in honor of the Upper Peninsula was a step in that direction. He dreams of displaying his company name and bit of bathroom humor in the local parades and on the inside of the porta potties.

Creating a Google website, Facebook posts, and establishing their business on Google have all been suggestions made by their advisor through the Small Business Administration. Charley acknowledges his current google website is very basic and in his current position that it is sufficient. A-1 Toilet's Facebook page took on the personality of its owner and even ran a lighthearted toilet paper giveaway which added new followers. Although these have all been started and Charley has an interest in keeping them up, he recognizes that he doesn't currently have the time to keep them going the way he envisioned or the financial means to hire someone to fill that role. He does see the development of marketing in social media as a future mountain to climb, especially if the direct link between the acquiring of new customers and the work done in social media is evident. Especially with a future goal of acquiring new customers outside his local county.

A-1 Toilets has been around for more than 30 years, but has only been in the hands of Charley and Katilin Heltunen for a few short months. We look forward to the changes and growth the company encounters as they take on an industry full of crappy humor.

Visit  https://a-1toilets.com/ to learn more about A-1 Toilets. 
Please follow and like us: