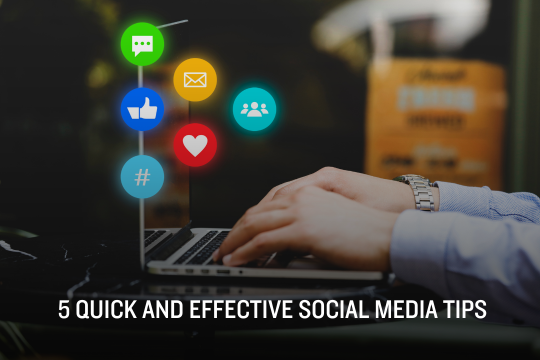 In the fast-paced world of digital marketing for small businesses, mastering the art of social media is like striking gold. To help you embark on this exciting journey, we've gathered five quick and effective social media tips for small business owners. Whether you're just beginning to dip your toes into the digital realm or looking to sharpen your existing strategy, these insights will guide you in building a robust online presence that resonates with your target audience. Let's explore how to leverage digital marketing for small business success.
Why Small Business Owners Must Master Social Media Marketing
Why should you care about social media tips and strategies? Because they provide you with the tools to connect with your target audience on a personal level, create a strong brand presence, and compete effectively in the digital marketplace. "Social media marketing offers many benefits for small businesses with limited marketing budgets. With a majority of consumers using social media regularly, businesses can easily connect with their target audience and create genuine relationships with them." (Hyphen Media, Why Small Businesses Should Use Social Media Marketing.) By mastering the art of social media, you not only expand your reach but also build trust and loyalty among your customers. Your online presence can make or break your small business, and by implementing the right strategies, you can unlock the full potential of digital marketing for small business and position your brand for success.
Our Five Quick Tips for Digital Marketing for Small Businesses
Plan Social Media Content Around Your "Why" 
Before diving into the realm of digital marketing for small business, it's crucial to gain an understanding of your brand's core elements. What values, mission, and vision underpin your business, setting it apart from competitors? Document these essential facets of your brand, as they form the foundation upon which your digital marketing content will be built. In the realm of digital marketing for small business, content strategy plays a pivotal role in crafting a compelling narrative that resonates with your target audience.
Integrating your brand's mission, values, and purpose into your digital marketing content must be an ongoing practice. This involves regularly sharing stories that illuminate why your business was founded, highlighting your dedication to particular causes or ethical practices, and showcasing how your products or services positively impact your community or industry. Such integration reinforces your brand's authenticity and connection with your audience.
Get Set up Properly and Optimize Your Social Media Profiles 
Setting up and optimizing social media profiles for small businesses can be done efficiently with the following steps:
Choose the Right Platforms: Identify the social media platforms that align with your target audience. For instance, Facebook, Instagram, and Twitter are versatile options, while LinkedIn is ideal for B2B businesses.
Create Consistent Branding: Use the same profile picture, cover photo, and bio information across all platforms. Ensure they reflect your brand identity and convey a clear message about your business.
Fill Out Profile Information: Complete all available fields in your profile, including the "About" or "Bio" section. Use relevant keywords and hashtags to make your business easy to find.
Use a Professional Username/Handle: Your social media handle (e.g., @YourBusinessName) should be easy to remember and directly associated with your brand.
Write a Compelling Bio/Description: Craft a concise and engaging bio that summarizes your business's mission, values, and what you offer. Use relevant keywords to make it searchable.
Include Contact Information: Make it easy for potential customers to contact you. Include your website URL, phone number, and email address, where applicable.
Be Consistent 
Consistency is vital because it keeps your brand visible in the feeds of your followers, ensuring that your business remains top-of-mind when they need your products or services. Moreover, consistent posting builds credibility and trust by demonstrating your reliability and commitment, increasing the likelihood that your audience will engage with and support your business.
Consistent content keeps your audience engaged, encouraging them to return to your profiles, interact with your posts, and remain loyal customers. Additionally, many social media algorithms favor accounts that post regularly, enhancing your visibility and reach.
By consistently posting content that reflects your brand's values and mission, you allow your audience to better understand and connect with your "why." Over time, this consistency not only helps your business establish a more authentic and relatable presence but also enables you to refine your social media strategy based on your audience's behavior and feedback, ensuring that your content remains engaging and relevant.
Focus on Content Quality and Variety 
It's essential to note that the quality of your content matters more than quantity. It's better to post less often with high-quality, relevant, and engaging content that resonates with your audience than to post frequently with subpar content. Small businesses can create high-quality and varied social media content by following these strategies:
Set Clear Goals for Each Post: Before creating a post, define its purpose. Posts should have goals such as educating, inspiring, empathizing, selling, or entertaining. Align your content with these objectives.
Educate Your Audience: Share valuable information related to your industry, products, or services. Provide how-to guides, tutorials, tips, and educational content that addresses your audience's questions and needs.
Empathize and Connect: Show empathy by addressing common challenges or concerns your audience faces. Share stories or content that highlight your understanding of their issues and your commitment to solving them.
Sell and Promote: While the primary focus of social media isn't sales, it's important to promote your products or services. Showcase your offerings through product demonstrations, customer testimonials, and limited-time offers.
Diversify Content Formats: Use a mix of content formats, including images, videos, infographics, stories, and live streams. Different formats appeal to different audience segments.
Build A Human, People-First Social Presence
To create a more human and people-first social media presence, shift your focus from mere sales and self-promotion to genuine engagement with your customers. Social media is not just a platform for broadcasting messages; it's a dynamic, two-way conversation.
Take the time to respond to comments and engage with your followers. When they share their stories and experiences related to your brand, it can serve as a powerful reinforcement of your "why" and the value your business offers. By responding promptly to comments and messages from your followers, you foster a sense of trust and loyalty, strengthening your relationships with your audience.
Furthermore, it's essential to expand your horizons by actively participating in the broader social media community. Begin by following and engaging with accounts relevant to your industry, target audience, and other local businesses. This proactive approach not only expands your network but also increases your brand's visibility. By embracing this more people-centric approach, you can establish a more authentic, relatable, and human presence on social media, ultimately fostering stronger connections with your customers and prospects.
You Can Master the Digital Marketing Landscape 
In the ever-evolving landscape of digital marketing for small business, these five social media tips serve as your trusty compass, steering your brand toward success. By planning your content around your brand's "why," setting up and optimizing your social media profiles, maintaining consistency, focusing on content quality and variety, and building a people-first presence, you'll find yourself not just navigating the digital world but thriving within it. With each post, comment, and engagement, you'll be strengthening your brand identity, fostering connections, and making a lasting impact in the digital arena. So, embrace these digital marketing strategies for small businesses and watch your online presence flourish.
Please follow and like us: