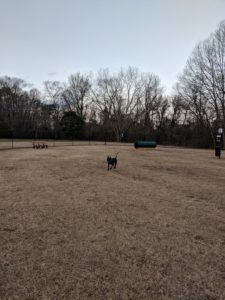 My suburban neighborhood recently opened a dog park. It's big and nice and clean! I am so excited to not have to travel a half hour or more for my dog to socialize with other dogs. However, sometimes there are people there who ruin the enjoyment for others. The other day, while at my new park, there was an owner with two dogs, both of which were acting aggressively and not listening in any way; everyone else just ended up leaving with their dogs because that person refused to. Don't be that person.
I've been to many dog parks in the four years since I adopted my sweet mutt and I've found there's a right way and a wrong way to visit a dog park. So here are 10 quick rules you should follow when visiting a dog park. This will ensure you (and your dog) do not create drama and tension while there.
First and foremost, make sure your dog is up to date on their vaccinations.
Your dog should be able to follow basic sit/stay/come commands. If your dog doesn't listen to you, take training courses before you start bringing him to the park.
Pick up your dog's poop! It's not only gross not to, it's also unsanitary. (Lots of dogs=lots of poop.) Bring a couple of your own bags in case the bagging station is empty.
Most dog parks will have a two gate entrance. Unleash your dog in the little gated area. Let the dogs sniff each other through the fence so they all get a chance to acclimate. Then enter the big fenced in park. It is very important not to leash your dog while surrounded by all the other dogs in the park; they do not like to be restricted when approached by many pups off leash. They feel out of control and may react in a defensive or aggressive manner. Only leash your dog inside the park if absolutely necessary.
Do not bring your dog's favorite toy to the park. It may get stolen. Depending on your dog's territorial instincts, this may lead to a dog fight.
Pay attention to your pup. Don't be playing on your phone the whole time. You'll miss when he poops and then won't know to clean it up. Or he may be bothering another dog or person and you need to intervene.
Don't leave your dog alone in the park while you run to the bathroom, to your car, or wherever. It's quite obnoxious when there is a very unruly/aggressive dog in the park and no one is replying to the question, "whose dog is this?"
If your dog is overstimulated or too aggressive while at the park, just leave. Don't expect other people to want to deal with your dog when they are constantly trying to pick fights. He may be super sweet and lovable on a regular basis, but just like humans, dogs have off days. Also, you should look up videos on how to stop a dog fight just in case it ever happens.
Don't bring your female dog to the park if she is in heat. It can cause aggression in males.
Don't bring food or treats for your dog into the park. Other dogs may want it causing unwelcome competition.
Also, follow any rules posted at the dog park itself. There may be requirements that differ from other parks. Remember, a dog park is supposed to be fun. Don't ruin it for everyone else!
Please follow and like us: